| | |
| --- | --- |
| If the video is not playing, download file instead. | If the video is not playing, downloadfileinstead. |
| Caloneis amiphsbaena (30x time-lapse) | Rhopalodia spec. (120x and 180x time lapse) |

Devices for observation

Microscopes
The inverted microscope and the stereomicroscope were already mentioned in the context of cultivation. They are also used for the observation of diatoms, especially when they are cultivated in petri dishes. The requirements for an inverse microscope in live observation can vary depending on the object and the observation goal. Higher magnifying objectives with 20x and 40x magnification are often useful. For documentation a trinocular tube or a dedicated photo tube is recommended.
An object guide with a petri dish holder makes work easier. This enables a uniform tracking of moving diatoms at long term observations. If you mark a point on the bottom half of a petri dish, you can place it in the holder again in the same orientation and find locations whose coordinates you have written down.
If you want to observe the movement activity of diatoms over a longer period of time, LED lighting is recommended. With halogen lighting and blue filters, it is difficult to achieve a usable spectrum. In addition, the colour temperature is highly dependent on the light intensity of light bulbs.
Living diatoms are good amplitude objects and can therefore easily be observed in the brightfield. However, the mucilage stalks that some Cymbella sp. produces, are mainly phase objects. The deformation of water surfaces in the vicinity of floating diatoms can only be observed well with phase-sensitive contrast methods. Phase contrast is suitable for such tasks. In principle, differential interference contrast (DIC) is desirable, but the preferred plastic petri dishes are not suitable for this because of their active optical properties. Zeiss offers the PlasDIC contrast method (Differential Interference Contrast for Plastic Receptacles), in which an optical anisotropy in the petri dish material and in the object itself is not disturbing. The slit diaphragm in the condenser can lead to stripe-shaped artefacts, which I regard as acceptable. For comparison, a culture with colonial Cymbella in PlasDIC and phase contrast is shown below (click to enlarge):
In both contrasting techniques, the almost transparent mucilage stalks are clearly visible. However, the impression is very different. Certain fine structures on the mucilage stalks are barely visible in phase contrast, whereas they can be recognized in PlasDIC.
With the same camera settings, PlasDIC requires a significantly higher intensity of the illumination compared to phase contrast (additional polarizer). If you don't have a very sensitive camera, phase contrast is recommended for long term observations.
Since August 2017 I have been using a Zeiss Axiovert A1 with phase contrast and PlasDIC. The microscope can be seen on the left (click to enlarge). Earlier recordings on this homepage were made with the Wilovert (Helmut Hund GmbH) shown elsewhere.
I will not go into other contrast methods that I do not use, such as VAREL contrast or Hoffman modulation contrast.
Furthermore, an upright microscope is required, with which a higher resolution can be obtained. Here too, observation in the brightfield is sufficient in most cases. This allows you to observe details of movement or photophobic response, for example. In principle, brightfield is sufficient for the determination of genus and species on the basis of a sample. However, since only the valves are observed, phase contrast or differential interference contrast (DIC) are advantageous. These contrasting methods are furthermore required for the phase objects mentioned above, such as mucilage stalks. In the past I used only an older Zeiss standard microscope for brightfield and phase contrast with trinocular tube. A strongly magnifying dry objective (e.g. 63x with cover glass correction, NA = 0.9) and a 100x immersion objective were helpful. At the end of 2019, an older Zeiss Axioplan was added, which has Plan-Neofluar objectives and DIC. It can be seen in the picture on upper right (click to enlarge).


Macroscope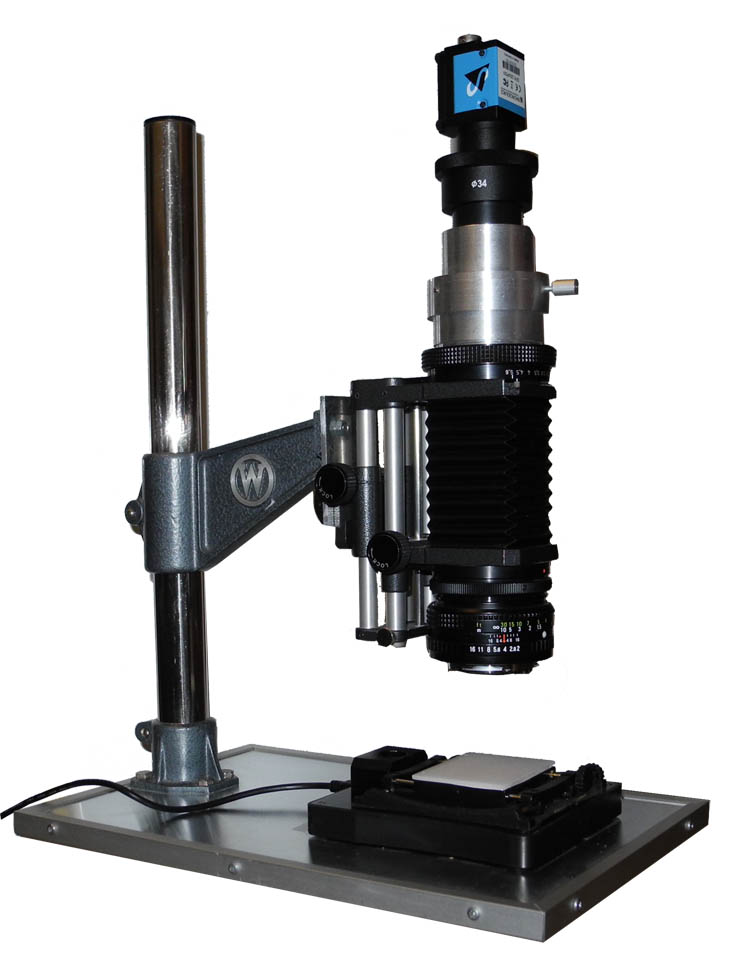 For long-term observations (long time lapse) at low magnification, I use a self-constructed macroscope, which consists of a a stand, bellows, camera lens in retro-position or macro lens and an eyepiece. You can see it on the left with the video camera attached and a simple lighting device. On the right you can see the device with a Zeiss-Luminar (25 mm focal length). This requires an adapter with RMS thread.
It turned out that such a macroscope is more light sensitive than a conventional stereomicroscope. It is possible to position it between the other cultures without additional illumination, so that the observed petri dish receives sufficient light for reproduction and for taking pictures. The dimmable illumination (LED) irradiates the diatoms from underneath with a few lux at night, which allows observation even in the dark phase.

Camera
These pages are primarily about the observation of the movement of diatoms. Therefore, video recordings are particularly important. Either a digital camera or a video camera is used. You can mount it on a trinokular tube or on one of the eyepiece tubes.
Personally, I prefere the video camera. The control is done completely on the PC, pictures and videos are immediately available and a separate power supply is not necessary if the video camera has a USB connection. A camera with USB 3 interface allows a sufficient framerate.

Further hardware
Depending on the observation, small auxiliary devices may still be needed. This will be discussed in the relevant sections.

Software
Here we refer only to the software, which is important in many recordings. In addition to drivers, capture software from the camera manufacturer and codec, this is:
VirtualDub (www.virtualdub.org) is used to create a video from separate frames and to edit video sequences.
Fiji (www.fiji.sc) is a universal tool for image processing and image analysis.
Specific software (such as programs to track the motion) is referred to in the appropriate section.